The Mohawk Valley Jugglers Varsity Hockey team once again took the time to recognize the special educators who help them succeed off the ice.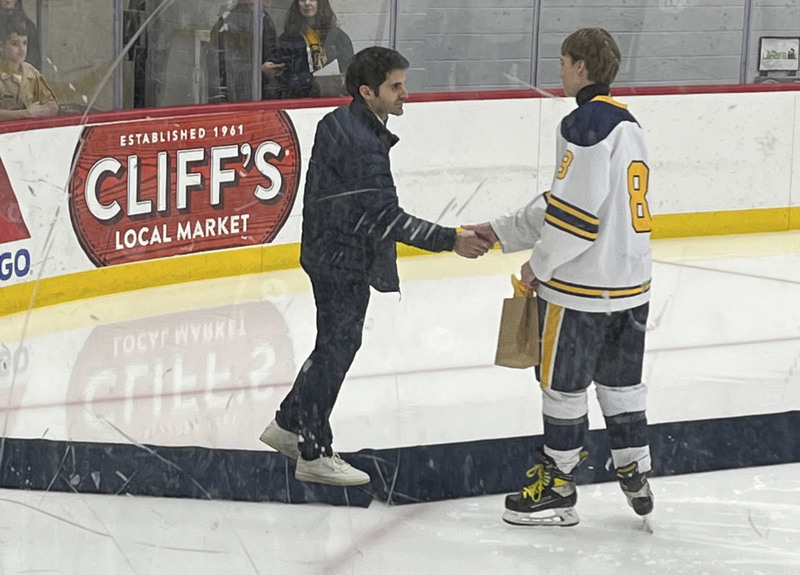 At its game against Liverpool at the Nexus Center in Utica on January 10, the team held a "Teacher Appreciation Night."
For the occasion, each player honored a teacher for their contributions to education during a ceremony before the start of the game. The Jugglers' Jakob Mazur and Trevor Jones, both juniors at Westmoreland Jr./Sr. High School, nominated and recognized their social studies teacher, Mr. Notaro.
All teachers who were honored received a gift on the ice. Mazur and Jones chose Mr. Notaro for being an exceptional leader who is dedicated to the success of his students and committed to the field of education.
"I am incredibly honored and sincerely thank Jakob and Trevor for nominating me," Mr. Notaro said.
The Mohawk Valley Jugglers is made up of players from as many as 16 local high schools, including Westmoreland, Utica Proctor, Camden, Herkimer, Holland Patent, Ilion, Little Falls, Mount Markham, New York Mills, Notre Dame, Oneida, Oriskany, Sauquoit Valley, Vernon-Verona-Sherrill, Waterville and West Canada Valley.
The Jugglers capped off "Teacher Appreciation Night" by defeating Liverpool, 2-1.
Congratulations to Mr. Notaro, and best of luck to the Mohawk Valley Jugglers the rest of the season!