Senior Michael Scalise had the opportunity to experience government in action.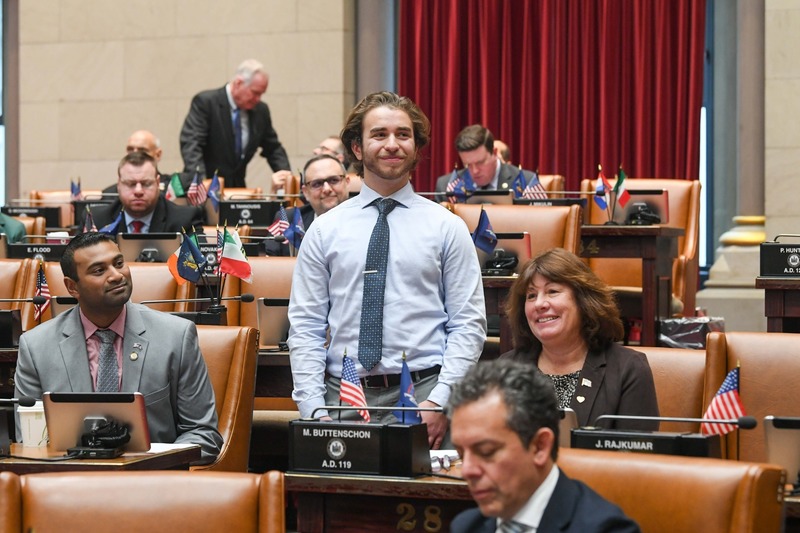 Scalise visited and toured the New York State Capitol Building in Albany on January 24. Scalise was hosted by Assemblywoman Marianne Buttenschon of the 119th New York State Assembly District. As part of his visit, Scalise spent time on the floor of the New York State Assembly with Assemblywoman Buttenschon.
At Westmoreland Jr./Sr. High School, Scalise is Student Council Vice President, Class of 2023 Vice President, a member of National Honor Society and Spanish and Chemistry tutor. He is also a member of the Varsity Football and Baseball teams. In his spare time, Scalise operates the scoreboard for Girls Varsity Soccer games and is a long-time Boilermaker volunteer.
"I am always happy to host constituents, especially students, when they want to come to Albany and see the inner workings," Assemblywoman Buttenschon said.
The visit was made possible through the Jr./Sr. High School College & Career Enrichment Program.
"I am so proud of his eagerness to learn and his potential in the field of political science," Mrs. Weissenberger, College & Career Enrichment Program coordinator, said of Michael. "I am honored to be a part of his learning experience!"
Scalise is considering several colleges, including the University of Albany to study political science.